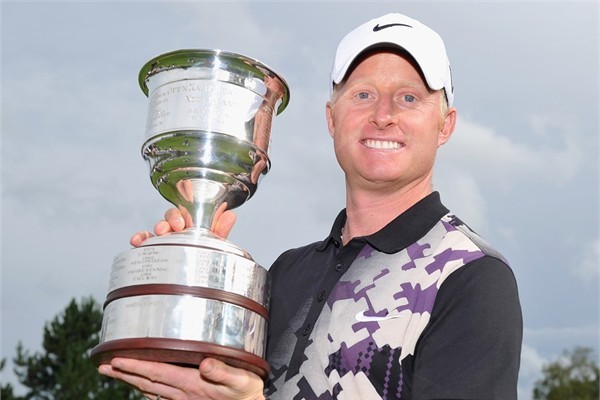 Add another KLM Open trophy to Simon Dyson's case. The Englishman simply owns this Dutch event.
With birdies on four of his final seven holes, Dyson surged to a one-shot victory – his third at the KLM, all since 2006 — over countryman David Lynn. Northern Ireland's Rory McIlroy finished two back.
Dyson's Sunday 66 gave him a 12-under total for the week at Hilversumsche Golf Club in the Netherlands, the country where he's claimed half his six European Tour wins. Dyson padded his 2011 earnings with €300,000, giving him €1,298,904 on the season. He also won the Irish Open in July.
With overnight leaders Gary Orr and James Kingston stumbling to final rounds of 71 and 73, respectively, the door was open for Dyson and company. Dyson took command with a trio of birdies starting at the 12th, then sealed it with a 4 on the par-5 18th.
The win placed Dyson in select company; Seve Ballesteros and Bernhard Langer are the only others to win the KLM Open three times.
"I'm absolutely delighted to be on the same trophy as names like those two," Dyson said. "To win any title once is tough, but to win it three times is a fantastic feeling."
McIlroy notched his second consecutive third-place finish since recovering from a wrist injury. Following Orr in fourth place were England's Lee Westwood in fifth and a sextet in sixth, including Kingston and the English duo of Ross Fisher and David Horsey.
This week, the European Tour contests the Vivendi Seve Trophy, a team event pitting a 10-man squad from Great Britain & Ireland against their counterparts from Continental Europe.