McIlroy holds off Woods to win Honda Classic, claim No. 1 ranking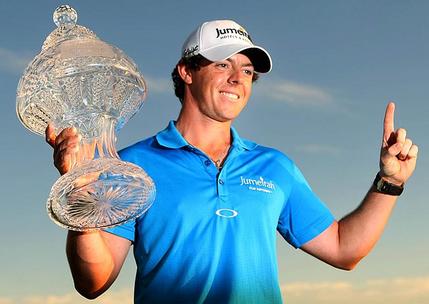 It was only a matter of time before Rory McIlroy reached the top of the world golf rankings. Fittingly, he got there by weathering a charge from a former No. 1 looking to reclaim his crown.
McIlroy won the Honda Classic at PGA National Resort in Palm Beach Gardens, Florida, with a 12-under-par total, two shots better than Tiger Woods – whose Sunday 62 marked a career-best final round – and journeyman Tom Gillis. The 22-year-old from Northern Ireland now stands alone atop the rankings, supplanting England's Luke Donald.
The victory certainly came as no surprise. McIlroy was listed as an 8/1 choice entering the Honda, having won three times worldwide in the past nine months and finishing among the top 5 in 10 of his last 11 starts. Lee Westwood went off at 10/1, with Woods – playing this event for the first time as a professional — at 11/1.
McIlroy led by two over Gillis entering the final round at the Champions Course, best known for a brutal three-hole stretch called the "Bear Trap." Under windy conditions, McIlroy was unable to separate himself from the pack; he missed seven greens on the day and made just two birdies. However, McIlroy's short game proved up to the task, as he suffered just one bogey and made a pair of sensational sand saves on the back nine for a 1-under 69.
For the week, McIlroy got up-and-down for par on 21 of 25 attempts.
Woods, meanwhile, languished nine shots behind to begin the fourth round. He turned on the jets beginning with an eagle on the par-5 third hole, adding birdies on 5, 7, 11 and 17. On 18, Woods stuck a 5-iron within 8 feet of the hole and drilled the eagle putt, finishing off an 8-under 62 to reach -10 for the week.
McIlroy, playing five holes behind Woods, heard the ensuing roar and interpreted it correctly as a Woods eagle. He then knocked in a birdie putt of his own for a two-shot cushion, then gutted out five pars for the win.
While low scores were tough to come by, Westwood nearly matched Woods with a 7-under-par 63 to finish fourth on -8. Charl Schwartzel and Justin Rose tied fifth on -7.
The McIlroy-Woods duel certainly caught the fancy of bookmakers with the Masters fast approaching. Ladbrokes now has the pair as 5/1 favorites for the year's first major, followed by Phil Mickelson (8/1) and Westwood (14/1).
For now, though, the spotlight belongs to the new No. 1.
"I always felt like when I played my best, I would be hard to beat," McIlroy said. "I feel like I've always been a pretty confident guy. But I think I've got a lot more belief in myself now when I'm going down the stretch. I definitely don't doubt myself as much as I used to."
This week's WGC-Cadillac Championship features McIlroy, Woods and a host of the game's best players taking on the TPC Blue Monster at Doral Resort in Miami. The tourney also serves as this week's European Tour event.