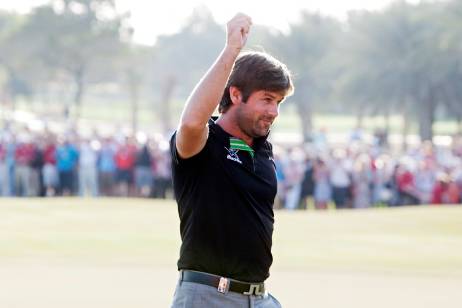 Few gave Robert Rock a chance to outlast Tiger Woods in the final round of the Abu Dhabi HSBC Golf Championship, let alone beat challengers including Rory McIlroy. But the unsung pro did just that Sunday, claiming the biggest win of his career with a 2-under 70 and one-shot victory.
Paired with Woods in the last grouping, Rock shared the three-round lead with the game's biggest star on -11. The 34-year-old Englishman quickly showed his mettle, matching Woods' birdies on holes 2 and 3. Woods, coming off a Saturday 66, was the first to blink, making bogeys on the next two holes as Rock remained steady with pars.
Woods would climb within a shot with a birdie on No. 9, but a bogey on 10 proved his undoing. Rock never relinquished the lead despite two back-nine stumbles, finishing one ahead of McIlroy.
"I really can't believe I have done that today," said Rock, who was playing with Woods for the first time after meeting him the day before. Woods declared his own game "just a touch off" following a closing 72, adding, "Robert played great. He made a couple of key up and downs and a couple of beautiful iron shots down the stretch."
It was certainly a storybook day for Rock, a former club pro at Swingers Golf Centre who won for the first time last year. "It's been a steady progression and I've worked hard," he said, "but I didn't think this would happen."
Graeme McDowell rode a final-round hole-in-one to a third-place tie with Woods and Thomas Bjorn.
The European Tour remains in the Middle East for this week's Commercial Bank Qatar Masters, where Bjorn will defend against a strong field.