Mickelson routes Woods to win at Pebble Beach; Phil favored at Northern Trust
A couple of familiar patterns held form Sunday at the AT&T Pebble Beach National Pro-Am: Tiger Woods continues to struggle when contending in the final round, and Phil Mickelson still has Tiger's number in head-to-head matchups.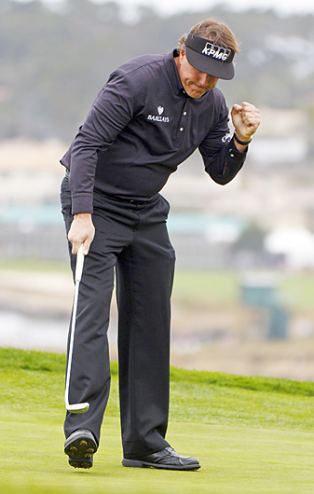 Playing alongside Woods, Mickelson routed his one-time nemesis – and the rest of the field – with a stunning 8-under-par 64 at storied Pebble Beach, winning the event for the fourth time. It was Mickelson's 40th career victory on the PGA Tour, making him the ninth player all-time to reach that mark.
Mickelson entered the event as a 20/1 pick, with a best finish of T26 in three 2012 starts. Woods, as he often is, was a strong favorite at 5/1, with Dustin Johnson trailing at 18/1.
For the record, Mickelson finished 16-under to win by two over Charlie Wi, who began the day six clear of Mickelson and three up on the field. Wi four-putted the first hole for double-bogey and finished with an even-par 72.
But this was all about Mickelson and Woods. Mickelson began the day -9, two behind Woods, but things soon changed. Mickelson eagled the par-5 sixth to get -4 for the round; Woods birdied six, then suffered three straight bogeys as his putting went haywire. Woods missed a number of short putts Sunday, including one from just over 2 feet. He shot 75 and tied for 15th.
In his last outing, Woods lost a duel with unheralded Robert Rock at the Abu Dhabi HSBC. Meanwhile, Sunday marked the fifth consecutive time, and eighth in the last 12, Mickelson has bettered Woods' score when the pair played side by side.
The performance certainly bolstered Mickelson's standing among bookmakers. Ladbrokes installed him as a 9/1 favorite for this week's Northern Trust Open in Los Angeles, where Luke Donald (14/1), Dustin Johnson (20/1), Sergio Garcia (25/1) and other stars are scheduled to compete.
Woods remains favored at April's Masters Tournament at 4/1, according to Ladbrokes. At 10/1, Mickelson, a three-time champion, checks in just behind Rory McIlroy (6/1).