GB&I take Vivendi Seve Trophy a fifth straight time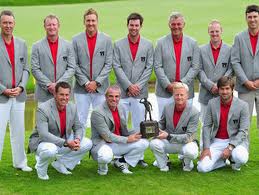 Great Britain & Ireland fended off a furious rally by the Continental Europe team to claim the Vivendi Seve Trophy, 15 ½ points to 12 ½, at St.-Nom-la-Breteche in France.
Holding a comfortable five-point lead heading into the final day's singles matches, GB&I were assaulted by a hot Continental squad led by Thomas Bjorn. The Dane, winner of the last two European Tour events, fell three behind before taking out world No. 2 Lee Westwood, 2&1, setting the stage for a historic comeback.
The Continental squad would win the next four matches, tying the score at 11 ½ points apiece. After Nicolas Colsaerts and David Horsey halved, GB&I pulled ahead for good when Scott Jamieson outlasted Pablo Larrazabal, 1-up. Ian Poulter dispatched Matteo Manassero and Mark Foster bested Raphael Jacquelin to seal the victory.
GB&I were staked to a big lead after dominating play on the first and third days. Poulter earned four points for his squad while Jamieson and Simon Dyson pitched in three apiece.
The GB&I side have now won five consecutive times in the biennial matches. Continental Europe's only victory came in the inaugural meeting in 2000.
The European Tour resumes its normal schedule this week with the Austrian Golf Open at Diamond Country Club, where headliners include Padraig Harrington, Miguel Angel Jimenez and John Daly.