Haas makes splash with Tour Championship victory
Bill Haas kept giving way the Tour Championship, and he kept clawing back. In the end, an improbable up-and-down from a water hazard propelled Haas to a playoff victory – and the title of 2011 FedEx Cup champion.
Oh, plus a pair of checks worth a combined $11.44 million, not to mention a likely spot on the U.S. Presidents Cup team.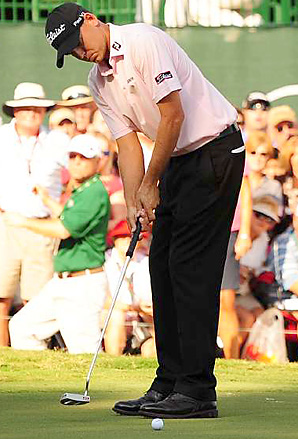 Haas, the 29-year-old son of PGA and Champions Tour stalwart Jay Haas, appeared to be coasting home after 15 holes on Sunday at East Lake GC in Atlanta, Ga. His three-shot lead vanished, however, when Haas bogeyed the 16th and 18th while Hunter Mahan – playing two groups behind – birdied No. 15 to pull even at 8-under par.
Tied after 72 holes, the pair began sudden death on the difficult par-3 18th. Both managed pars and headed for 17. Mahan grabbed the advantage with an approach to birdie range, while Haas' second shot dribbled into the edge of a water hazard.
Undaunted, Haas splashed a brilliant explosion shot to 3 feet, holing out to tie the two-putting Mahan. Returning to 18, Haas again salvaged par from off the green, winning when Mahan could not do the same from a bunker.
The win was Haas' first of the year and vaulted him from 25th to first in the FedEx Cup standings – the biggest jump made by a winner in the series' five-year history. Haas may also have locked up the second and final Presidents Cup captain's pick by Fred Couples; Tiger Woods claimed the first.